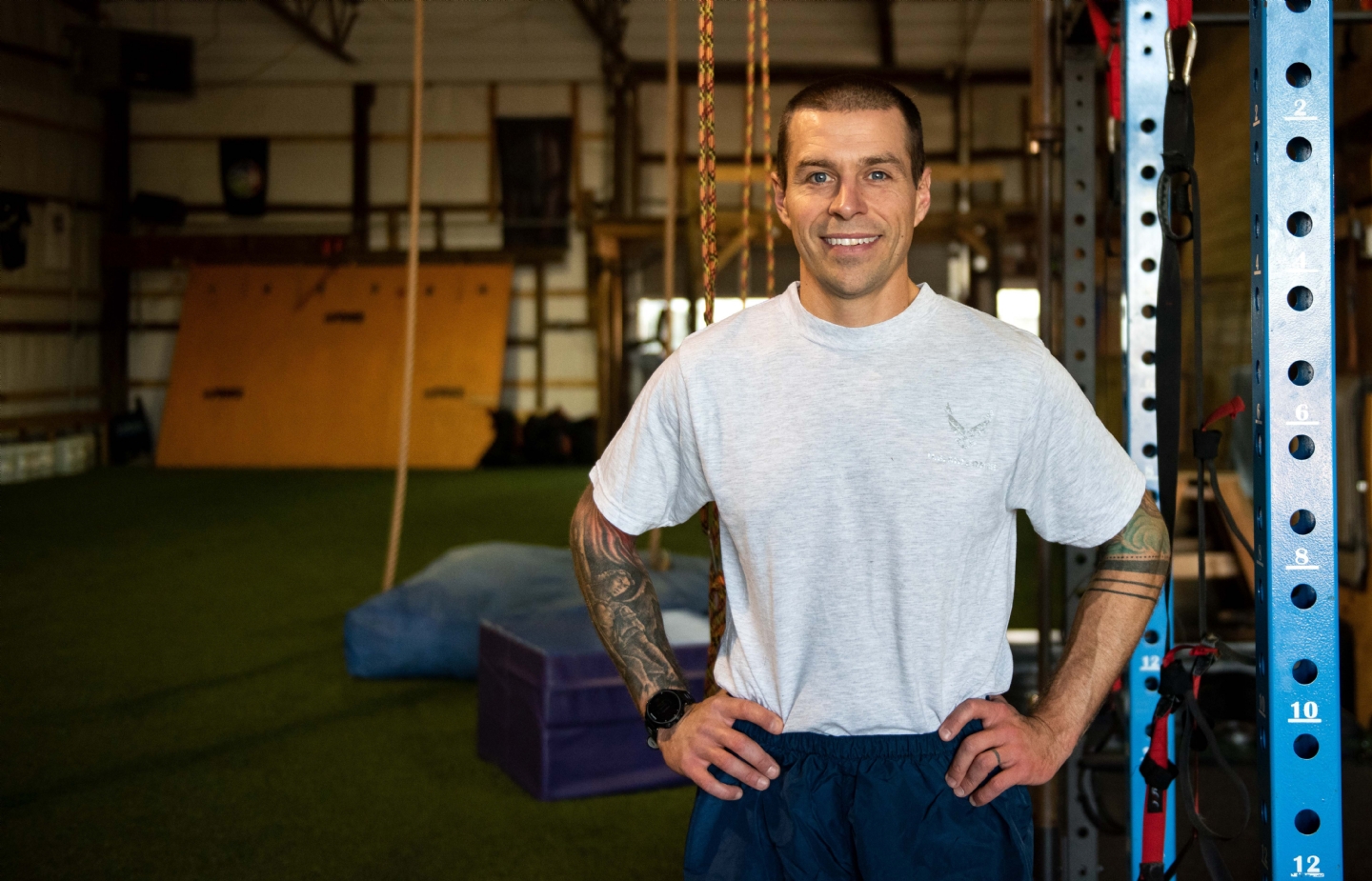 With 8 kilometers behind him and 7 more to go, it was nearly impossible to see anything except one foot or hand in front of the other. Call it yet another exercise in faith for this chaplain's assistant with the 193rd Special Operations Wing.
The abundant dirt and sweat and that covered March's body and the dogged determination in his face were clear indications of how far he had come against 387 elite athletes competing in the Obstacle Course Racing World Championships at Stratton Mountain, Vermont, Sept. 25.
"You're only two places behind," an exuberant volunteer shouted somewhere in the middle of two grueling hours of relentless competition and exertion.
To a casual spectator, it might have sounded like something he should already know. But after advancing agonizing miles across the rugged Vermont mountain terrain through threatening obstacles fittingly dubbed Skull Valley and the Snake Pit, these words were instant motivation.
March knew his skill set positioned him well, but if he could just push a little harder, run a little faster, climb a little higher, maybe he could make it to the top.
Swinging rope-to-rope, grip-to-grip and gaining on the competition, March methodically picked off them off – once, then twice. He was in the lead, but the fight wasn't up yet. Determined to put in every last drop of sweat until the end, he only had one more 8-foot wall in front of him until he crossed the finish line.
Bending over to catch his breath, exhausted from the last two hours of punishing competition, March raised his fists in the air and shouted at the top of his lungs.
This was what victory felt like. This was why he trained. After 15 kilometers, 4,500 feet of elevation and 50 obstacles, March was a champion in his age group and third overall with a time of 01:59:44.
"I never expected this to happen," said March. "In training, winning is what you envision, and it's ultimately the goal, but there was never a clear expectation for it to happen. I could imagine it, but I certainly didn't expect it."
But his victory was anything but a surprise to those who work with him in the Chaplain Corps, a career field he found a true calling to after serving his first six years in maintenance.
"March trains like a warrior," said Lt. Col. John Bateman, head chaplain for the 193rd SOW. "The values he holds in his commitments to fitness, family and God clearly transfer into his military career. Every drill, March brings the right frame of mind, the right tone, and he is clearly there to serve others before himself. His dedication, determination and work inspires others towards their goals, and our wing is all the better for his presence and ministry."
Working with the Chaplain Corps, March's main mission is to care for the spiritual and mental well-being of Airmen, providing them spiritual guidance and counseling.
A graduate of the University of Pittsburgh with a bachelor's in exercise science, March says he came from a background of loving physical activity. Yet, he didn't find himself actually good at sports until later in life.
"In college, I discovered a love for biomechanics and became fascinated with understanding how the body responds to the different things we throw at it," said March. "That ultimately led me from just enjoying regular exercise into an interest to find out what the body was capable of. Obstacle course racing, between the military and personal fitness, stood out to me as a way to see how far we can take this and what we can make ourselves do."
Outside the military, March, a father of two, owns a gym and works as a personal trainer. Just as he enjoys assisting Airmen with their spiritual and personal needs, he is passionate about helping people learn about their bodies, achieve goals they never thought were possible, and ultimately believe in themselves.
"Anything worth doing is worth doing well," March said. "If I'm going to go after it, I should be giving my full effort – not just so I can say I did, but to make it worth the time, the pain, the suffering and the training."
After rising to the world podium, March says he plans to continue doing what he loves, not only for his personal health and goals but to be an inspiration to other civilians and Airmen alike.
"I really aspire to lead by example, and to inspire other people to see what's possible," said March. "I want to show people what hard work, dedication and consistency can do. Obstacle course racing is just another opportunity I have to work with people, help people, and be excited to know people, and I just enjoy that in both the military and in my civilian life."
Armed with an abundance of faith, fitness, and fortitude, March heads out once again to discover new mountains to climb and obstacles to overcome.